The Portland Protests. Where are they going?
---
---
Via The North Belfast Journal A View from Napoleons Nose by Fra Hughes…
The Portland protest has reached the grand old age of Seventy. If the Portland protest were a person at the age of 70, they would be looking at retirement, they would be looking at unwinding, they would be looking at saving their energy and taking it easy, but the Portland protest is not a person, the Portland protest is a progressive movement determined to underline, sustained, systemic change in the American judicial, policing, governmental and societal regimes, to facilitate a more equal world and a more just society.
The protest has emerged following the murder of George Floyd, a Back African  American in Minneapolis by the police, in conjunction with the black lives matter movement, to create a political Street protest which is determined, through peaceful, non-violent protest, to facilitate change in the American system of the administration of democracy.
In an interview with David Rovics, a renowned singer-songwriter and poet, we learn of the history of The Portland protests it's aims and its ongoing mission to effect change.
David has lived in Portland with his wife and young family for over a decade and has witnessed his rent increase by over 250% during that time.
While the black lives matter protest is focused on police and judicial racism which is systemic within the system, many of the protesters are aligned and are supportive, not only of the black lives matter movement but with previous incarnations of Street public protests such as the Occupy movement.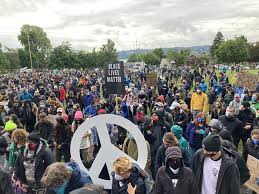 https://www.dropbox.com/s/6s9alslcx03y51p/Fra Hughes.mp4?dl=0
The statements, views and opinions expressed in this column are solely those of the author and do not necessarily represent those of The Duran.