Timeline of coronavirus responses show infantile Democrat reaction to Trump
---
---
Even though the US president is often seen to pivot in opinions about given points, the sum total of his maneuvering seems to work for the nation as a whole. The coronavirus pandemic is no different.
However, it does have to be acknowleged that the President has done what amounts to a complete 180-degree turn on his policy positions about the Wuhan coronavirus since the time it first made headlines back in December and January. He went from "it is not a problem" to "there is going to be a lot of death" over the three-month period.
But at the same time, his opposers did not show a consistent point of view either. In fact, the cardinal rule of the first term of the Trump Presidency is as simple as whatever Trump supports, we oppose.
This is honestly four-year-old-level politics, being executed by adults who are well into middle-age, if not senior citizens, like Nancy Pelosi and Chuck Schumer, for example.
It would have been one thing if there had been anyone in the US policy field that studied the situation and held a more or less consistent position about the virus with regard to its actual actions and threat level. To some extent, this appears to have been confounded by the running narrative promoted by the Chinese government and echoed by the World Health Organization (WHO), but when the virus began taking lives in the US, the politicizing continued, with the Democrat candidates and media syncophants continuing to neatly hold views diametrically opposite to the President, and to even try to launch new "impeachment-aligned" investigations against him, all the while opposing his relief plans, holding American citizens hostage to their own political agendae, at least for as long as they could before beaten into submission by people with more common sense.
This is a marked departure from the last true crisis the nation faced. After the September 11th, 2001 attacks, the country briefly came together as one behind the President, George W. Bush at the time, and there was a shared cameraderie among almost the whole population, who for a brief and joyous time, were simply "Americans."
For me, the willingness to sweep aside reality in favor of political opportunism is hand-in-hand with another change – the almost constant attacks against Christian believers in the US. Granted, as one can read in my series about Orthodox Christianity and the coronavirus pandemic, on a worldwide scale we can see that all religious activities across the big four religions stands paused or stopped, most notably, that of the Muslims, with their holiest city, Mecca, closed to tourists, and the Kaabah standing forlorn, bereft of pilgrims. That is news. But at the same time we do not see the virulent attacks by people against any Muslim, Jewish or Buddhist or Hindu attempt to hold services of any kind during this period. Surely there are some of these adherents who want not to stop practicing their religion. But in the US, the rhetoric is absolutely vile against Christian believers, many of whom cannot get past the notion that there is something really out of place to close churches in the face of a pandemic, when this does not have clear precedence in history.
The United States was founded as a nation understanding that liberty only comes from God. It makes sense that with the rejection of this definition of liberty, the new definition, being "Liberty is me doing whatever I want to do, and you cannot stop me (because I am an American)" is without reverence or reference to God, and it is no coincidence that the rhetoric has found a new low. It is also the same denial of reality that makes it expeditious for Trump-opposers and Trump-haters to try to block the man no matter what, even when his policies are developed as an attempt to help the nation through a problem it has never experienced before.
This leads to the difference between what President Trump is doing and what his opposition peanut gallery are doing: The President is trying to find a way to get his nation through what has turned out to be an extremely perilous time. His ability to change position as new information comes out is vital, for the name of this game is to deal with reality. As reality becomes clear, so must one's actions. Mr. Trump is doing a superb job at showing this level of nimble and adaptive action. He does it because he cares about his nation and his people, including his detractors.
And what are the detractors doing their thing for? Certainly not out of care or concern for the American people. For them, there is only one problem: a guy named Donald J. Trump, who they cannot get rid of, and who is the occupant in the White house instead of one of them. Past that there is no purpose to their plan.
Which kind of people would you want to trust with the leadership of the nation? Any nation?
We present the following timeline, lifted from a Fox News piece entitled "Coronavirus timeline shows politicians', media's changing rhetoric on risk of pandemic." It is a bit long but extremely honest, and informative. Gregg Re, the writer and compiler of this timeline, deserves a great deal of credit for his sleuthing here.
January
Jan. 4: The head of the University of Hong Kong's Centre for Infection warns that "the city should implement the strictest possible monitoring system for a mystery new viral pneumonia that has infected dozens of people on the mainland, as it is highly possible that the illness is spreading from human to human."
Jan. 6:  The Centers for Disease Control and Prevention (CDC) issues a "level 1 travel watch — the lowest of its three levels — for China's outbreak," according to the University of Minnesota's Center for Infectious Disease Research and Policy. The CDC said the "cause and the transmission mode aren't yet known, and it advised travelers to Wuhan to avoid living or dead animals, animal markets, and contact with sick people." The CDC also offered to send a team to China, but China declined.
Jan. 8: The World Health Organization (WHO) declares, "Preliminary identification of a novel virus in a short period of time is a notable achievement and demonstrates China's increased capacity to manage new outbreaks."
Jan. 11: China reports its first coronavirus death.
Jan. 14: The WHO announces, "Preliminary investigations conducted by the Chinese authorities have found no clear evidence of human-to-human transmission of the novel coronavirus (2019-nCoV) identified in Wuhan, China." Meanwhile, according to The Associated Press, internal Chinese documents show that government officials acknowledged likely human-to-human transmission of coronavirus, and said they were following orders from the president of China.
Jan. 17: The CDC and the Department of Homeland Security announce that travelers into the U.S. from Wuhan will undergo new screening at several major airports.
Jan. 19: The WHO hedges somewhat: "Not enough is known to draw definitive conclusions about how it is transmitted, the clinical features of the disease, the extent to which it has spread, or its source, which remains unknown."
Jan. 22: Trump responds to whether he's concerned about a possible pandemic, "No. Not at all. And we have it totally under control. It's one person coming in from China, and we have it under control. It's going to be just fine." Trump was referring to a resident from Snohomish County, Wash., who came back from China on Jan. 15 and was diagnosed with the coronavirus.
Jan. 23: Vox publishes an article stating that travel bans to fight viruses "don't work." The article initially referred to the "Wuhan coronavirus," before being edited weeks later. The article's URL remains unchanged.
China seals off Wuhan, canceling plane, train and bus travel.
Jan. 24: Trump tweets in praise of China's "transparency." (On April 1, the Biden campaign mocked the president for the tweet, and claimed Biden "publicly" warned Trump not to trust China.)
Jan. 27: The Biden campaign, including its top coronavirus adviser Ron Klain, praise Chinafor being "transparent" and "candid." Speaking to Axios, Klain asserts: "I think what you'd have to say about China is, it's been more transparent and more candid than it has been during past outbreaks, though still there's problems with transparency and candor." Even as he says there were "many" areas in which China hasn't been transparent, Klain says China had helpfully released a "sequence of the virus." Klain says there wasn't "any reason" for anyone to postpone essential travel to anywhere except the Wuhan area.
Jan. 28: Three days before Trump closes off most travel from China, Klain says he opposes that measure.
Jan. 30: CNN publishes a piece by Brandon Tensley entitled, "Coronavirus task force another example of Trump administration's lack of diversity." Tensley, who claims to cover the "intersection of culture and politics," was unable to offer medical analysis in the article.
The WHO declares a global health emergency, and the State Department issues advisories against traveling to China.
Also in the wake of the ban on Jan. 31:
An article in The New York Times quotes epidemiologist Dr. Michael Osterholm as saying that Trump's decision to restrict travel from China was "more of an emotional or political reaction."
The Washington Post runs a story quoting a Chinese official asking for "empathy" and slamming the White House for acting "in disregard of WHO recommendation against travel restrictions."
Vox tweets: "Is this going to be a deadly pandemic? No." The tweet was deleted weeks later.
Death counts indicated that 213 people had died and nearly 10,000 had been infected.
February
Feb. 2: "There's a virus that has infected 15 million Americans across the country and killed more than 8,200 people this season alone," CNN tweets. "It's not a new pandemic — it's influenza."
Meanwhile, New York City Health Commissioner Oxiris Barbot  tweets: "As we gear up to celebrate the #LunarNewYear in NYC, I want to assure New Yorkers that there is no reason for anyone to change their holiday plans, avoid the subway, or certain parts of the city because of #coronavirus."
Feb. 5: Over 5,000 passengers on two cruise ships in Asia are ordered into quarantine as the worldwide death toll from the coronavirus reaches 490.
Feb. 7: Barbot strikes again, assuring residents, "We're telling New Yorkers, go about your lives, take the subway, go out, enjoy life." City lawmakers have called for Barbot to be fired because of the comments.
Feb. 9: Mark Levine, the chair of New York City Council health committee and a Democrat, tweets: "In powerful show of defiance of #coronavirus scare, huge crowds gathering in NYC's Chinatown for ceremony ahead of annual #LunarNewYear parade. Chants of 'be strong Wuhan!' If you are staying away, you are missing out!"
Feb. 13: "There are ZERO confirmed cases of coronavirus in New York City, and hundreds of Chinese restaurants that need your business!" the New York City mayor's office tweets. "There is nothing to fear. Stop by any Chinatown for lunch or dinner!"
Feb 14: France announces Europe's first coronavirus death.
Feb. 17: Fauci announces that the risk of coronavirus infection in the U.S. is "miniscule," according to USA Today. Fauci, one of the top experts in the field and a senior White House coronavirus adviser, also told the paper that people shouldn't wear masks unless they are contagious. (By April 3, Fauci appeared to endorse national stay-at-home orders.)
Feb. 18: In remarks at Joint Base Andrews, Trump states: "I think President Xi is working very hard.  As you know, I spoke with him recently.  He's working really hard.  It's a tough problem.  I think he's going to do — look, I've seen them build hospitals in a short period of time.  I really believe he wants to get that done, and he wants to get it done fast.  Yes, I think he's doing it very professionally. We're also working with him and helping him, as of the last few days, as you know." Pressed on whether he trusted China's coronavirus data, Trump responds, "Look, I know this: President Xi loves the people of China, he loves his country, and he's doing a very good job with a very, very tough situation."
Feb. 19: Iran reports two coronavirus cases — the country's first. Hundreds of passengers leave the Diamond Princess for the first time since the quarantine.
Feb. 23: Coronavirus infections surge in Italy and South Korea; authorities in Italy begin locking down towns.
Feb. 24: "It's exciting to be here, especially at this time, to be able to be unified with our community," House Speaker Nancy Pelosi, D-Calif., tells reporters as she visits San Francisco's Chinatown. "We want to be vigilant about what is out there in other places. We want to be careful about how we deal with it, but we do want to say to people 'Come to Chinatown, here we are — we're, again, careful, safe — and come join us.'"
Also on Feb. 24, the White House submits a request to Congress for $2.5 billion in supplemental spending to help combat the coronavirus outbreak. The request includes $1.25 billion in new money, with the rest coming from unspent funds.
Feb. 28: At a campaign rally, Trump calls Democrats' criticisms of his coronavirus response "their new hoax." Biden and other Democrats then falsely accused Trump of calling the virus itself a hoax. Several fact-checkers, including The Washington Post, make clear that Trump was referring to the Democrats' response to the virus.
Feb. 29: The first coronavirus death in the U.S. is confirmed in Washington state.
March
Mar. 2: "Since I'm encouraging New Yorkers to go on with your lives get out on the town despite Coronavirus, I thought I would offer some suggestions," New York City Mayor Bill de Blasio tweets. "Here's the first: thru Thurs 3/5 go see 'The Traitor' @FilmLinc. If 'The Wire' was a true story set in Italy, it would be this film."
Mar. 9: At a Fox News town hall, Bernie Sanders says he would not close the border, even if it were necessary to halt the spread of coronavirus. He then attacked Trump's "xenophobia."
Also on this day, Fauci remarks that going to campaign rallies may not be a bad idea: "You know, I can't comment on campaign rallies. It really depends. We are having as we all said — this is something in motion. This is an evolving thing. So I'm not sure what we're going to be able to say at the time we're going to have a campaign rally. If you're talking about a campaign rally tomorrow, in a place where there is no community spread, I think the judgment to have it might be a good judgment. [But] if you want to talk about large gatherings in a place you have community spread, I think that's a judgment call, and if someone decides they want to cancel it, I wouldn't publicly  criticize them."
Mar. 11: Trump blocks most travel from continental Europe.
Meanwhile, Trump declares a national emergency, authorizing $50 billion in federal funds to go to the states.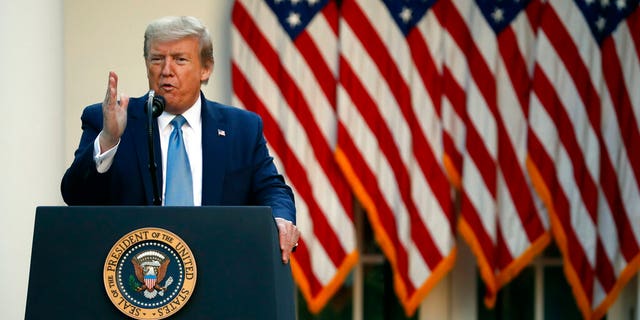 mostly seal off the bloc for 30 days.
Mar. 23: Britain imposes a nationwide lockdown.
Mar. 24: India imposes a nationwide lockdown.
Mar. 27: A senior WHO official cuts off an interview after a reporter implies Taiwan, which is not a WHO member state, is independent of China. The official, Canadian doctor Bruce Aylward, initially pretended not to hear the question before terminating the Skype call with the reporter.
Trump signs a $2 trillion stimulus bill into law.
Mar. 30: Virginia, Maryland and Washington, D.C. issue stay-at-home orders, joining other states. In all, approximately 265 million Americans are now under indefinite lockdown.
The statements, views and opinions expressed in this column are solely those of the author and do not necessarily represent those of The Duran.
Tags:
agenda
,
American people
,
Americans
,
China
,
Christianity
,
Chuck Schumer
,
Coronavirus
,
Democrats
,
division
,
Latest
,
Media
,
Nancy Pelosi
,
News
,
opposition
,
pandemic
,
pivot
,
policy
,
President Trump
,
purpose
,
unity
,
Wuhan