YOU DECIDE: Paper on Gain-of-function research shows Fauci lied under oath [Video]
---
---
First, we want to present Tucker Carlson's summary, as he maintains that this report contains "the mother lode" regarding how dishonest Dr Anthony Fauci has been in his efforts to conceal his connection to the creation of the SARS-CoV-2 virus, the source of the COVID-19 illness. This illness has an estimated 1% mortality rate among known cases of the illness, which is high enough that it has taken the lives of some 3.3 million people in the world since COVID-19 first appeared in late 2019.
In the video, Tucker makes reference to a paper that Fauci himself referred to in his own e-mails, "Baric, She et al – nature medicine – SARS Gain of function.pdf"
It seemed a good idea to look for this document, and we found it, complete with a screaming disclaimer which is interesting:
30 March 2020 Editors' note, March 2020: We are aware that this article is being used as the basis for unverified theories that the novel coronavirus causing COVID-19 was engineered. There is no evidence that this is true; scientists believe that an animal is the most likely source of the coronavirus.
Nice try. As you will read, this paper indeed concerns gain-of-function as applied to coronaviruses, and Dr Baric and Dr Shi indeed worked on this with the blessing of Dr Fauci.
Therefore, Dr Fauci lied under oath when giving testimony about this before various members of Congress.
Here then, is that full article with plenty of links to names to book. It is long, but near the end you will find some very interesting details that seem to be relevant to our pet crisis now.
In particular,
The acknowledgements for this paper are to labs in both the USA and in Wuhan, China, because they worked together on this project.
Dr Fauci claimed that Dr Baric and he were not involved in gain-of-function research. This paper shows this claim is false.
In the very abstract, the paper describes creating a chimeric virus capable of infecting humans. Here is the exact text: "Using the SARS-CoV reverse genetics system2, we generated and characterized a chimeric virus expressing the spike of bat coronavirus SHC014 in a mouse-adapted SARS-CoV backbone. The results indicate that group 2b viruses encoding the SHC014 spike in a wild-type backbone can efficiently use multiple orthologs of the SARS receptor human angiotensin converting enzyme II (ACE2), replicate efficiently in primary human airway cells and achieve in vitro titers equivalent to epidemic strains of SARS-CoV."
This paper indeed does appear to be the mother lode. What with another note saying this (highlighted in yellow):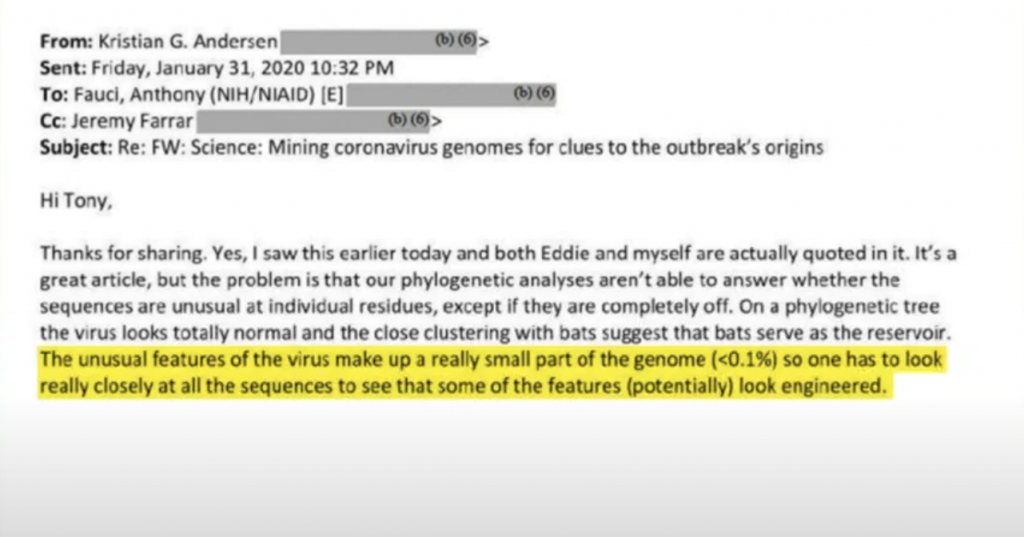 This evidence looks very damning, indeed.
What do you think?
---
A SARS-like cluster of circulating bat coronaviruses shows potential for human emergence
The statements, views and opinions expressed in this column are solely those of the author and do not necessarily represent those of The Duran.
Tags:
America
,
Baric
,
bat coronavirus
,
Biden
,
bioengineering
,
chimera
,
chimeric virus
,
Congress
,
Conservative
,
coverup. media coverup
,
Dr. Anthony Fauci
,
Fauci
,
gain-of-function
,
lab
,
Lab Leak
,
Latest
,
liberal
,
lying under oath
,
National Institute of Health
,
pandemic
,
SARS-CoV-2
,
theory
,
Trump
,
Tucker Carlson
,
Video
,
Wuhan Institute of Virology
,
Zhengli Shi